Home > How to Avoid Bad Credit > Why the Holidays Jeopardize Your Credit
Why the Holidays Jeopardize Your Credit
Posted on December 16, 2010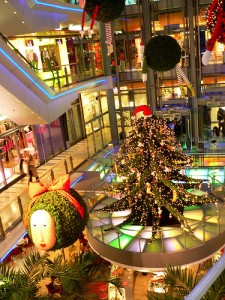 You may be working really hard to get back on track with your credit and have made every effort to repair your credit score but you need to pay close attention around the holidays or your hard work can be in jeopardy.
Why The Risk?
So many people with poor credit scores got into their situation because they had a hard time controlling their spending in the first place. This is especially true during the holiday shopping season when people feel as though they have to give the best to everyone whether they can afford it or not. This results in overspending, mostly on credit, for items and purchases they can never dream of paying back in a reasonable amount of time. The overextension of credit ends in reduced credit scores and the inability to keep up with payments.
How To Stay On Track
You need to really pay attention to your finances during the holidays. Before you hit the mall, you should know how much money you have after the bills are paid and your other financial obligations have been taken care of for the month. You are wise to start a Christmas Club savings account so you'll have extra cash to devote to your holiday shopping needs. If you did not enroll in such a savings program, it is crucial to sit down and figure out where you stand.
Here are some more tips for keeping your credit score up during the holidays:
Use Credit Only Equal to Cash
A good way to rebuild a poor credit score is to use the credit you have wisely. That means you are allowed to use your credit card to boost your score and gain your rewards but only charge for purchase amounts you have in cash. In other words, if you have $500 allocated to Christmas spending, you can charge that amount. When the bill comes due, you must commit to paying that full amount back to the card.
Make A Shopping List
Again, before hitting the mall, you must do some work. You have to sit and make a list of how much you can spend and prioritize who you must buy gifts for on that list. If you go shopping without any plan, you will overspend and impulsively buy. There is also a large possibility that you will come home without enough gifts for everyone.
Compare Prices
Even last minute shoppers can take to the Internet and compare prices. When you find the best deals, make note of how much the item is and where it is located. Many deals are good up until the actual holiday as retailers want to sell. Take advantage of the online information and know where to get the best deals rather than shop out of desperation.
Compromise
There is likelihood that many of your friends and family are in the same boat and don't have a lot of money to spend. If you feel you can approach everyone and come up with new holiday traditions that do not involve extensive spending, everyone wins. If you can't go without giving gifts, wait until after the shopping madness ends and the clearance sales begin.
Photo credit

Similar Posts: